A break from paddling...Gone Camping!
October 21st, 2008, 8:55pm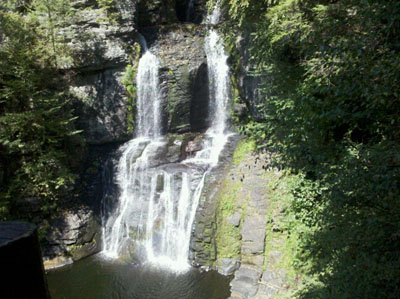 Only a few months of Kayaking and these past few weeks without it is giving me the case of the blues. The cold weather is sneaking up on me and I am not geared up for it just yet. Literally. For this reason, Kayaking has been halted unless a pleasant Indian Summer kicks in. Fingers cross. The good news is that I am slowly buying cold weather gear but I have yet to pickup a decent wetsuit.
During this absence of kayaking, I prepared for another event... CAMPING. Me and two friends headed up to the NJ/PA border at the Delaware watergap. It isn't kayaking but at least I got to enjoy the great outdoors and some exercise as we hiked a 4 mile trail of an Appalachian trail at a 3 mph pace. (8 miles total there and back). A little cool this time of year up there (60's in day, 27-32 at night) but I'd rather bundle up a little more than to deal with mosquitoes and sweat. Camping overall was definitely relaxing. We cooked over a traditional Croatian Sac. An amazing outdoor cooking vessel.
Well. Not much to note about kayaking. Hopefully that will change when I get that wetsuit!
---
More Articles...