First Full Moon tour.
September 15th, 2008, 10:22pm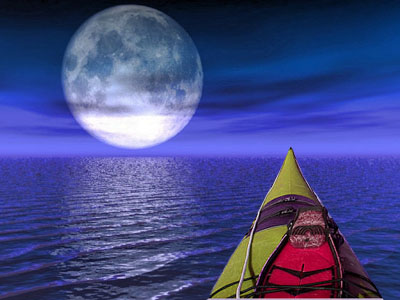 This past Saturday was my first Full Moon Tour with the gang at the Dinghy Shop. It was not the best trip but it was worth it. Unfortunately, the cloudy skies concealed the beauties behind it. The Sun set privately to the horizon without a single ray to burst through the clouds. Although the full moon did get to rise without notice, we did get a quick peak for a moment of time. Just enough to see it was a full moon but not nearly enough for any details.
The bugs were out on full petrol on that evening as I was bitten from head (literally) to ankles. I was given some "Natural" bug repellant spray a few weeks back and it seems to have worked but, this time around, the real bugs were out and I needed REAL bug repellent. Next time I will just use the stuff with DEET included. I'm all for natural and all but it has got to work. Its either that or a possibility of West Nile Virus. What would you pick?
Above all the evening was pleasant. I continued to paddle and keep up with the group. Typically I need to paddle about 50% more than those in the touring models but it has been worth the exercise. I have received several compliments from the various members of the tour throughout these past few weeks. Apparently my SOT is not designed to be used as fast as I paddle it but it works. It isn't effortless but I am not complaining. My core muscles are toning up noticeably. It's also fun to see the bow cut through the water so eagerly. Whereas most touring models slice through it silently.
Note to self:
- Next time bring REAL BUG REPELLENT.
- Bring two 20oz bottle of water next time.
---
More Articles...