Hurricane Sandy and a kayaker preparing for the storm at home.
October 30th, 2012, 11:15am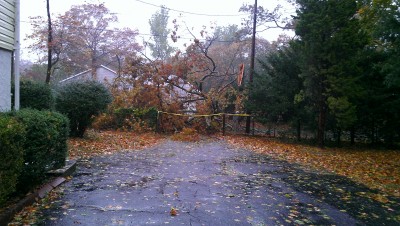 Just a year from our minor experience with Hurricane Irene, Sandy has come to remind us just how bad a hurricane can be here in Long Island, NY. Reminiscent of my experience with Hurricane Gloria in 1985, the strength of Sandy was incredible. With such high force winds, Sandy has left a wrath of destruction all over our US Eastern coastline.
Heeding to the warnings, I immediately secured all kayaks into the garage. Now securely stored, I immediately went through my emergency kits, candles, and stoves. Having such a hobby/sport gives me quite an advantage to preparation with little effort. First aid, always in my kayak, was all set in preparation for the worst. LED flashlights and lanterns also ready due to my camping trips. I preferably use all flashlights and lanterns that use "AA" or "AAA" batteries. At the moment, these two are the least popular for emergencies as many continue to use inefficient halogen/incandescent light sources requiring heavier batteries such as "C" and "D" batteries. As a result, finding batteries in the supermarkets is more in my favor if I arrive late shopping. This won't last long, but for now it's to my advantage.
Last night power was lost as a tree gave up the fight against the forces of Sandy and broke to the landing our our power lines. Leaving us with no power, our electric range stove/oven was out for the count. However, we prepared for the worst prior by cooking up dishes that were ready to be reheated using our camping stove and Barbecue stove.
Cell phones were fully charged but ready for a recharge with my manual generator based wind-up radio/flashlight that also includes a usb port for charging cell phones. A must have for any camping/kayaking trip but also for such emergencies such as this.
As the evening went on with Sandy moving in hard, we couldn't be more ready. Food preparation,check... First Aid, check... Cell phone, check... candles, check.... LED flashlights and lanterns, check... AM/FM radio, check... More time tending to family, check.
Obviously there are luxuries out there such as generators, power tanks, etc... but with your existing arsenal of a kayak/camping enthusiast, you already have most of what you need.
Keep important phone numbers handy (aside from 911) such as utility company hot-line, local precent police force, hospitals, family and friends, and such. Prepare blankets and beds ahead of time. Freeze as much as you can. Add bottles of water (not filled all the way!) to your fridge until it is stuffed as this will act as a battery in terms of keeping your freezer cold longer should you lose power (but place it so not to block important food). Think of what your pets will need too and take all actions you see fit to keep their stress down.
I know we all do our best to prepare for the worst but I hope these little notes I have posted might prove helpful as many forget they have such tools and items at their fingers due do such a fun sport of kayaking. If you are a kayaker and do not have some of these items, you might want to consider getting them. It makes your daily kayak trips safe and your home emergencies even safer.
---
More Articles...