I Joined the Long Island Paddlers
September 19th, 2008, 10:29am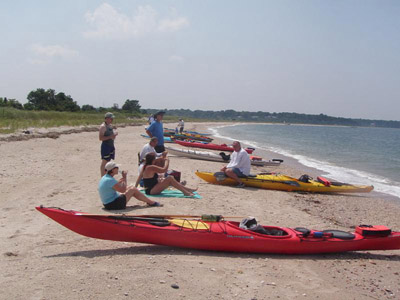 Thursday was a juggling act. Two events took place, overlapping each other. One was the monthly meeting of the Long Island Paddlers (LIP) and the other, more importantly, my first parent/teachers meeting.
I had been emailing Steve B., President of LIP, a couple of times and had been looking forward to the Sept. meeting as my introduction to the group. Little did I know my daughter's school meeting was scheduled the same day. With a little luck, the school meeting ended at 8:25pm so I set off to meet up with the LIP member to see what LIP has to offer. More intriguing was the fact that the meeting of the month was focused about Kayak Fishing. I arrived as the meeting had just ended and the large group mingled away as members slowly left. Although I missed it all, I got to meet some friendly members, including Steve B. Without any convincing necessary, I joined the group right then and there. Within just a couple of hours, I received my first email personally welcoming me to the group. This was not an automated email. It was hand typed personally to me at the later part of the evening. Obviously, these members are devoted and personable. In the email was the latest copy of the group's recent newsletter. While reading the newsletter, I immediately recognize a familiar face from my weekly twilight tours at the Dinghy Shop. There he was, the proud kayaker/instructor, Frank Chillemi. Because he is part of the group, I know I made a good decision joining the LIP. Frank Chillemi is one of those devoted people who you know will look out for your best interest. But something tells me just about everyone in this group has the same positive vibe.
Above all, I look forward to what the LIP has to offer and what I have to offer for the LIP.
---
More Articles...