Learning some rescue and recovery techniques
April 26th, 2009, 4:34pm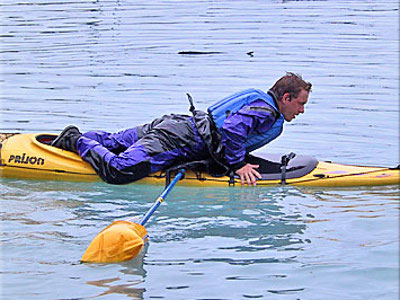 As the title states, I spent Sunday afternoon at the Long Island Paddlers Skill's Day class where I was taught and trained on a few rescue and recovery techniques. I must say right away that this class, or any class similar, is invaluable. I mean it. You can't put a price on learning how to rescue yourself or someone else. One class may be enough to get some knowledge in but it is obvious to me that more than one class is needed. There is still much to learn and I am willing to learn it all. After all, I want to cross the sound to Connecticut. But not unprepared ( nor alone! ).
From self rescues, to assisted rescues, to just the basics of maneuverability, it is highly recommended that you learn every aspect of kayaking safety. Naturally, I initially felt like I had enough knowledge to go out to many trips confidently with my SOT kayak but as soon as I brought this sea worthy touring kayak, I knew I had some training to do. Nothing impossible...just necessary. That isn't to say that SOT kayaks are safe and self explanatory. Not at all. In fact SOT kayaks might be at a disadvantage because it can lead the user/owner to a false sense of security. If you own an SOT and have not taken any safety courses, PLEASE DO. If you are stubborn and do not think you need to learn it for yourself, at least do it for the safety of others whom you might be able to rescue and/or assist in rescuing should that time come.
The course I speak of took place in a warm indoor pool. Therefore some of it was easy. But I am sure this is much trickier and difficult when the "real" bodies are water are roughened by wind and storms. I know I'll be testing that out one day. Otherwise, what's the point!
Anyway... This blog entry was to bring one point across... Learn about the safety requirements of this hobby/sport and how to assist a rescue and do a self rescue!
---
More Articles...