Life breathes back to this blog
April 07th, 2009, 11:01pm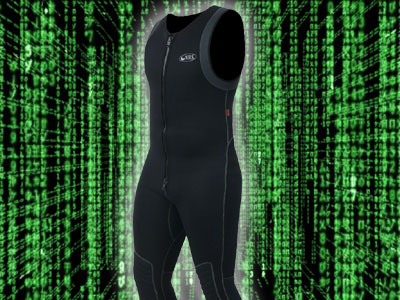 It's been months after my last blog entry and I have much to report. It was December 27th, 2008 when I last put in my kayak as the winter began to take full reign over the season. It was a warm 61 degrees and I knew it would be my last entry into the water for the winter. Since then, I have been preoccupying my kayaking fix with endless hours of window shopping online for gear and a new kayak. On top of that, I have been working on a new website and making plans for the year as far as camping and kayaking.
Spring has finally come upon us, the last drop of snow has fallen, and so have the prices of all Kayaks! To start preparing for the season, I attended the infamous Jersey Paddler's annual PaddleSport event. It was my first attendance to this event. Not impressive as I anticipated but none the less, it was well worth the visit. I picked up a new NRS farmer wetsuit and a 25 gallon drybag. Nothing to serious. My intent was to buy my next kayak here. Unfortunately, PaddleSport was focused towards composite glass and kevlar boats or simply plastic SOTs. The plastic tour kayaks just seem to be voided of the show. You know what they say... Everything happens for a [good] reason. Well it did. I decided to revisit the dependable momma/pop kayak store local to me.... You know... The Dinghy Shop. Well wouldn't you know it, they have updated their leftover deals webpage with a boat I have been eyeing for quite some time now! The Wilderness Series Tempest 170! As I read this off the LCD flat panel, my eyes must have looked like 5 year old getting his first race track for christmas. Not only was it a great deal, but I saved up just enough to buy it in cash (you know how I feel about credit cards). Immediately, I email and call. To make a long story short, I now am a proud owner of the Tempest 170. A mere 5 minutes after I handed over the cash I changed into my wetsuit and boots and put the kayak into the inlet. Hell yeah! That's more like it! This is AWESOME. As I test what it can do, all I could think about was that I can now go out all year round. I have that same feeling I got when I promoted myself from a bicycle to a car. Anyway, I took it home and then stared at it off and on throughout the rest of the day... Again, kind of like your first car.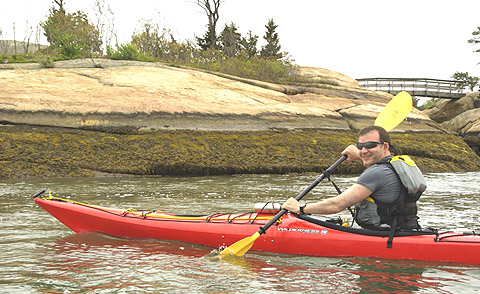 Let me stray off this for a second for those of you reading this as locals... Since the purchase of my first kayak, The Dinghy Shop has done everything to be warm, friendly, knowledgeable, and supportive. Not once have I felt "fooled" or treated like a generic customer. Obviously, my return to purchase was only better. The owner, Jim, not only took care of me with the sale, but I got a hug congratulating me for the upgrade! Not just a hand shake....a hug! Don't get me wrong, I would sense a false hug if it were "just for the money" but that wasn't the case here. How many stores have you walked out of pleasantly happy to have spent your cash at that particular place? Well, this was one of them. I'm not done gearing up yet but I do know where I will be purchasing again.
Back to the new kayak story...
On April 5th, I decide to take the kayak out for a more serious test drive. I take is to the Nissequogue bluffs. A windy 20 to 25 knots and 1 to 1.5 foot rough peaks surround me as I enter the water. Paddling felt effortless. I took my portable marine GPS with me to clock my speed. Without any effort, I was paced at 4 MPH against the wind (GPS was in MPH). I begin to push it a bit and reach 7 MPH. That is awesome considering I was going against the wind. It was as if the wind and rough water is not a factor in reducing the speed. Unfortunately, the sun was not out and the wind was more of an annoyance for my second time on the kayak. I also did not like that the area was quiet. Not one vessel in the water. As I do not like to be alone in a kayak under these conditions, I decided to just head back to the dock and go home. Not disappointed at all. Just playing it safe.
So... I now have 17 feet of pure adventure! Be prepared for alot of blogging. Look out Connecticut... Someone's gonna make a trip across the sound to say hello. (someday.)
---
More Articles...