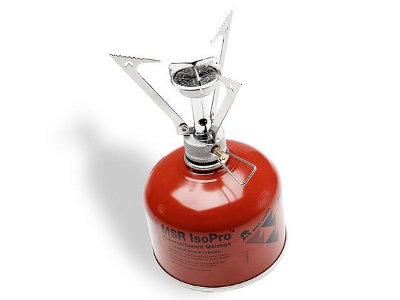 MSR Pocket Rocket. A Backpacker's delight, a kayaker's dream come true.
Product Review
September 12th, 2011, 9:01pm
So far I have been paddling every chance I get. Post information about my experience when possible. However, I have not once reviewed any product in my possession that might be of interest to others. With that, one thought always echoes in my head during an expedition out to the water....Gosh I love this stove!
I am referring to my MSR PocketRocket Stove (found between $30 to $40). A hungry kayaker's delight. It's been in my drybag during every trip for the past 2 years now. This tiny inferno of fire packs a serious punch! It's very small yet expands to a perfect stove in seconds while simply screwing it onto a standard Butane/Propane mixed canister. Boils water faster than you can prepare a cup, tea-bag, spoon, and honey. Tea is not by far what I use this stove for. It's primary function is to cook up my favorite mussels, clams, and shrimp meals while enjoying a serene relaxing break on a desolate beach with friends. In just minutes, mussels are perfectly tender with a simple white wine, oil, parsley, garlic sauce.
I know there are some higher priced contenders out there in the market leading the backpacking stove industry but their "included" pots are limiting to my needs. Shelling out over $100 for the other brands only to bring additional pots for cooking large meals or Turkish coffee is not my idea of money well spent. I would rather spend the $30 to $40 for a perfect stove and use the remaining money to buy the pots I truly need for my own personal needs. Obviously, this is particular to my situation. However...If you're a chef, or chef at heart, you already know the truth...The "special cooking kits" are always a compromise of the average needs of the public at large. For me, I don't like being excluded from the "cut" when the decision is made to accommodate most, but not all, cooks. For that reason, I always buy a device that is focused purely on its true function. The construction and design is nearly always mastered due to the concentration of the design team on the product's primary function. If I want a stove, I just want the stove. If I want some pots and pans, I'll get the models that fit me perfectly.
In short, this stove, nearly the size of a fist (when stored) does it's only job perfectly, and for the price, I get to spend the savings towards my other cooking needs. Some interesting tid-bits of information I would like to share...
A friend of mine used his to cook at home when he lost power due to Hurricane Irene.
It's perfect for making coffee or tea during a walk in the park, without feeling as though the kitchen sink is in your pack.
Damp tinder, or a wet dura-log chunk, don't stand a chance when this stove is used for assistance (Not recommended by me. Perform at your own risk but good to know in an emergency).
The spread of the burner takes some getting used to with large pots. Sometimes it will need to be offset for balance. Experience will overcome this easily.
For more information visit the MSR page of this product at: http://cascadedesigns.com/msr/stoves/rapid-cooking/pocketrocket/product
---
More Articles...