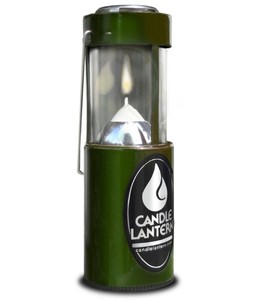 The UCO Original Candle Lantern
Product Review
October 17th, 2012, 11:30pm
I love camping. Particularly when traveling by kayak (backpacking is a close second). However, I particularly love to do it when the weather is still cool. Mid to late Fall or Early Spring. Why? For one, no ticks in the sandy islands I pitch a tent in... Also, no mosquitos to suck me dry... And don't forget there is little to no boat traffic at this time! There is one trade off and that's those cold nights. Temps dropping near freezing can keep you awake by just the breathing in of cold air. I do keep my body warm with my properly rated pad and sleeping bag, however, the cold air just can't be stopped from keeping me awake. Well I have found a fix for that! The UCO Original Candle Lantern. A compact candle powered lantern that is a great multitasker. Providing excellent light in my tent and enough heat to reduce the stress of breathing cold air during a sleep in the wild. I've read how these candles are recommended to help heat up a tent but I was weary of such a claim. Shockingly, there is some truth to the statement. With a proper size tent, small for 2 people yet tall enough to suspend, this workhorse definitely heats up the nylon home we call a tent. If I were to guess, the candle successfully increased the inside temperature between 5-10 degrees higher. Obviously the results may vary depending on several conditions such as tent size, ventilation volume, and wind conditions. When using my Marmot Earlylight 2P (see review here) in a dead calm, cold evening, the candle definitely removed the chill from within making my night sleep the most comfortable I have had yet. I outfitted the UCO with its optional heat reflector (sold separately) and this candle burned through 8 hours of the night optimally directing heat downward as I awoke to at least another hour's worth of wax left.
Although the Marmot is a phenominal tent and does not surprise me with a wet lining of dew in the morning, I imagine this candle would also rectify this problem for those tents that are prone to such problems. Keep that in mind.
Key Benefits:
Light without batteries
Mini heater
Tiny footprint collapsed and expanded
Need help getting kindling to burn? You now have wax with you too.
I don't recommend you get one... I would INSIST you get one!
---
More Articles...